Mehndi designs for full arm – Part 4
Mehendi is used to decorate and are very sophisticated way of beautifying and nurturing the hands, legs and other parts of the body. Every woman loves and adores a good mehndi design on arms! Especially when it's her arms! We are gathered some of the best full arm designs for you to check out.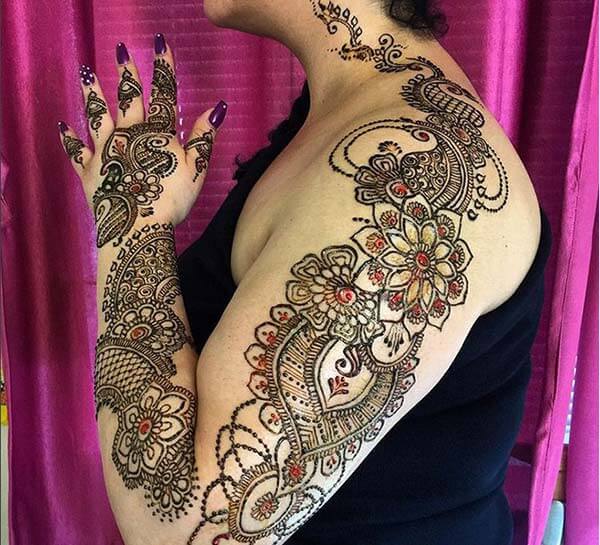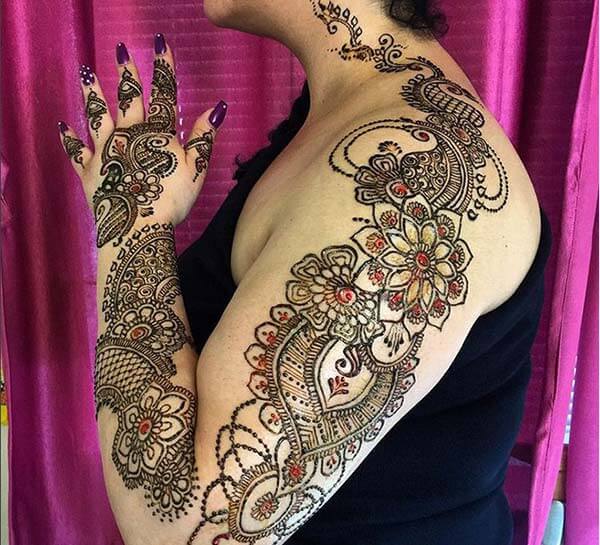 An attractive full hand mehndi design for Ladies to flaunt. The design is made up of several patterns ranging from flowers and paisleys to checks to beaded hangings. The design looks so sexy on the arm that it will definitely make the woman feel on top of the world.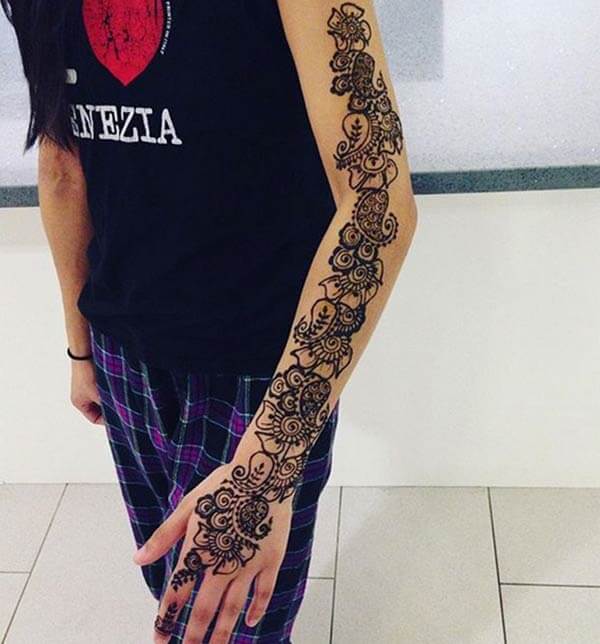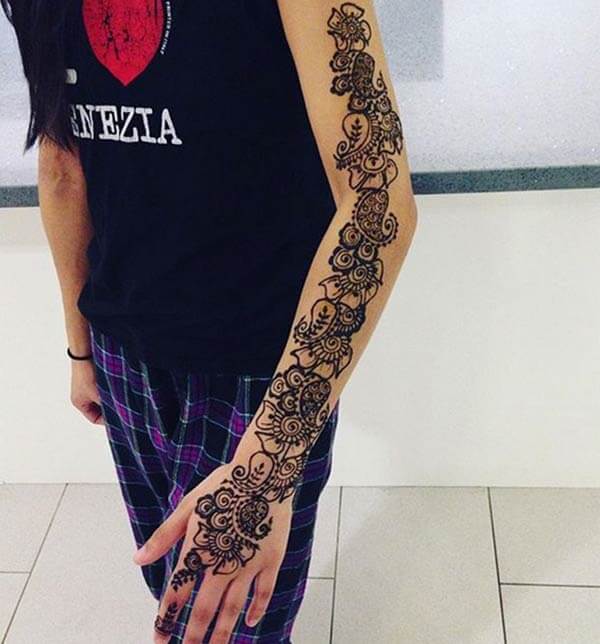 A heartwarming full hand mehendi design for girls. The design is stunning and captivating as it is a combination of several patterns. The design is made completely of traditional designs and this makes it very special.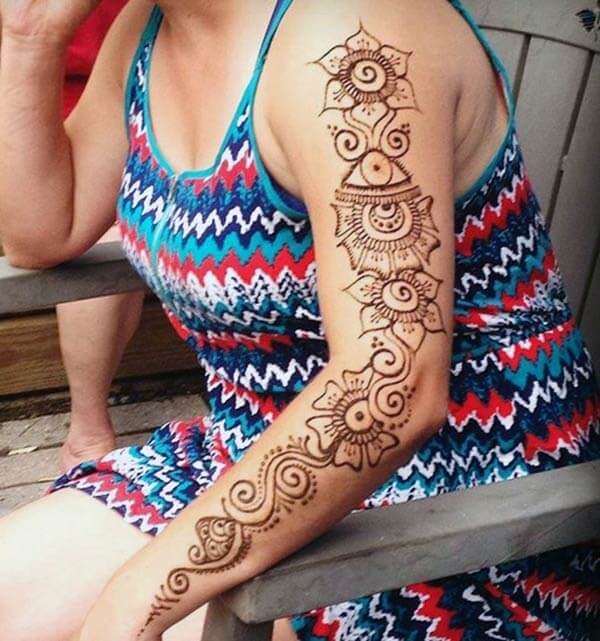 A creative mehendi design on full hand for Women. Ever thought of getting a full hand mehendi and was not sure of what to apply? Look into this design- it's not crowded or intricate. It consist of simple designs aligned to provide enough coverage.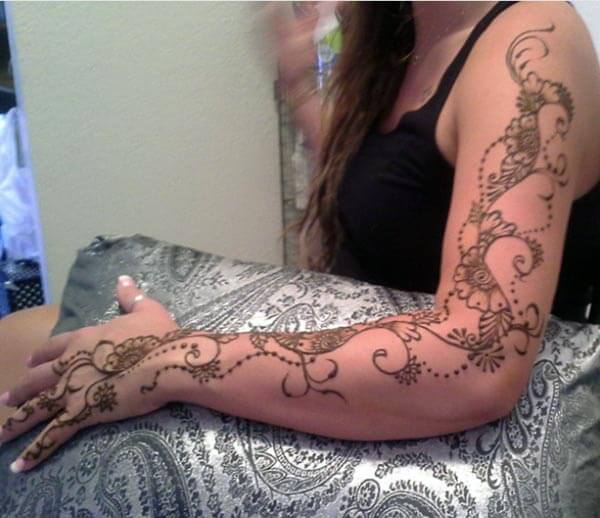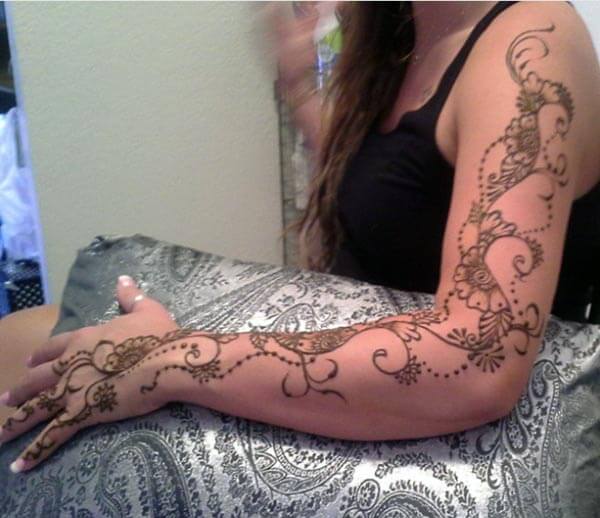 A floral vine mehndi design on full arm for girls and ladies. The vines goes in swirls and have parts of flowers beautifully aligned on it. The hanging beads and dots add to the grace and beauty of the design.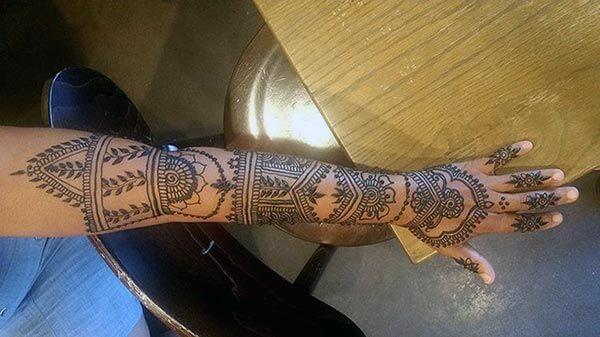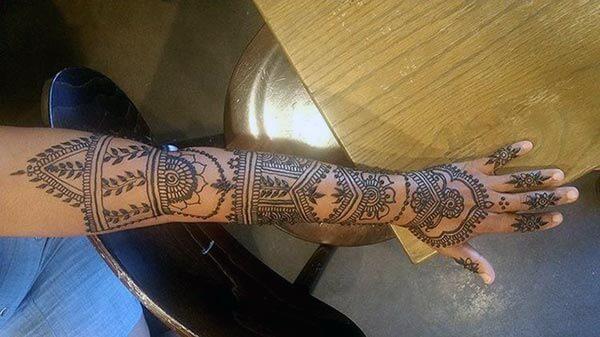 A cool full hand mehendi design for Girls and women. This design is total modern art with little touch of traditional mehendi design. The line designs are paired with leaves and curvy patterns. Overall this is a chic style mehendi for any trendy casual look.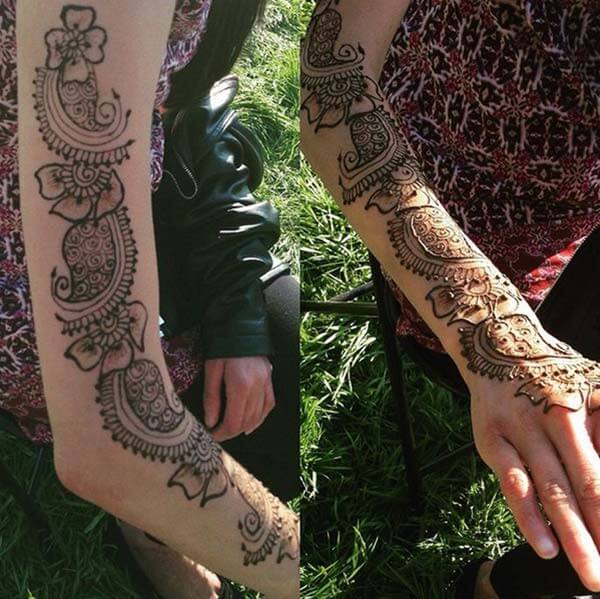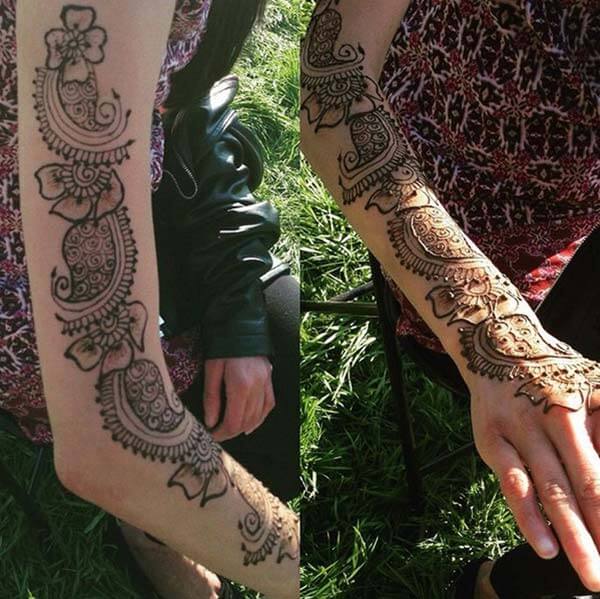 A lovely mehendi design on full arm for Girls. This design is called paisley rules! The paisleys are the highlight and is combined with three petal flower and a curvy half cover. The design looks like a full arm ornament and is worth wearing.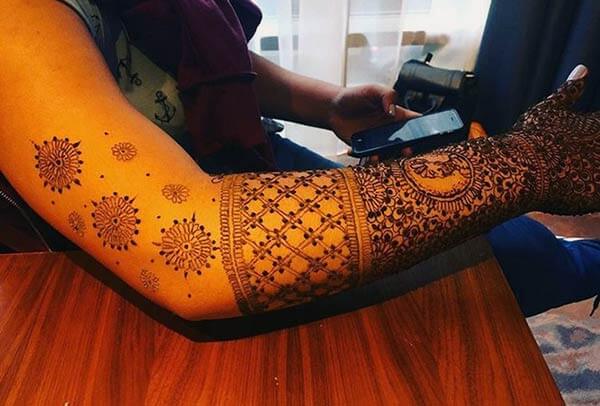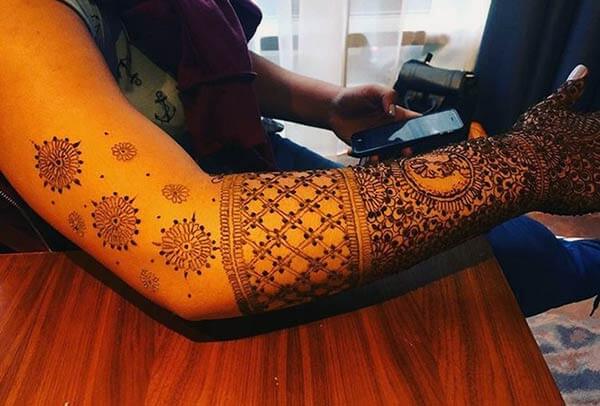 A mind blowing intricate mehendi design on full arm for Women. Look at this fabulous design! The forearm is covered by floral clusters that it is difficult to count them or identify separately. The jaali pattern on top looks fantastic and perfect for the floral cluster.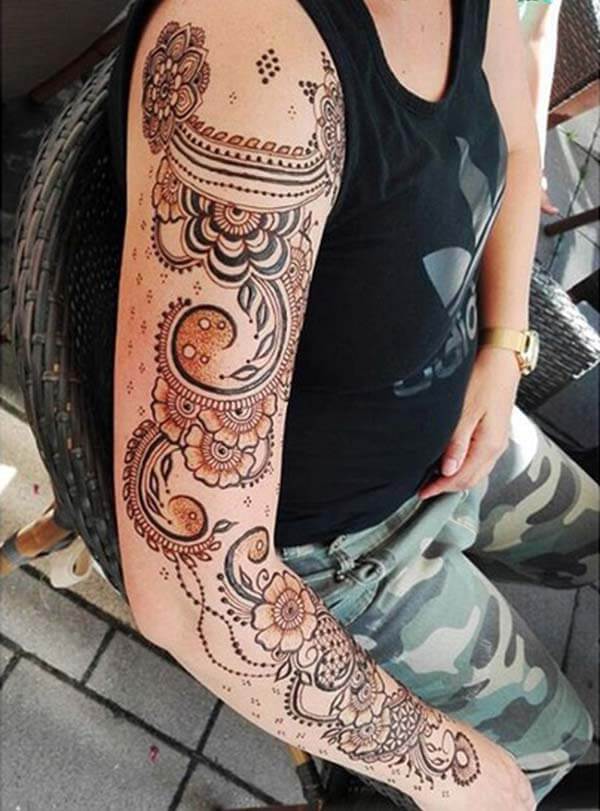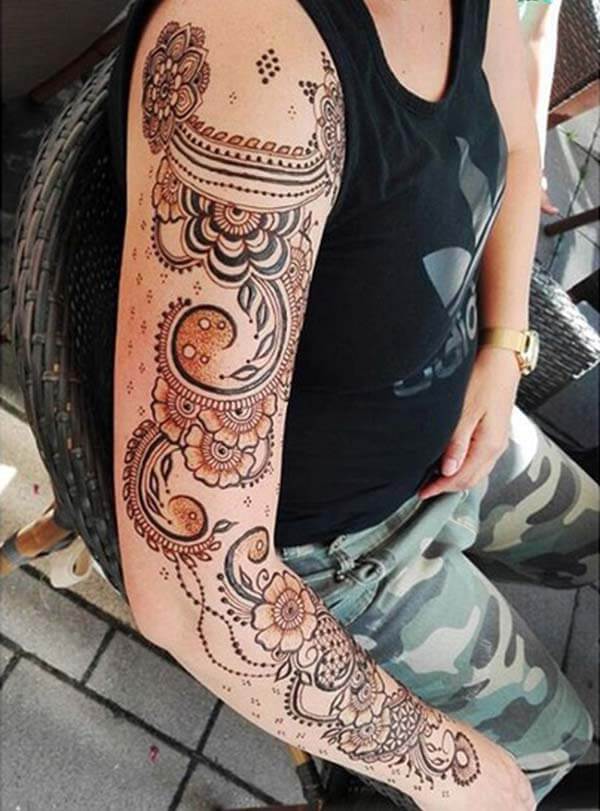 A breathtaking full hand mehndi design for women. The design is amazing and the detailing is astounding. The floral motifs are shaded to enhance its look and on combining with modern art, this design just blows off anyone's mind.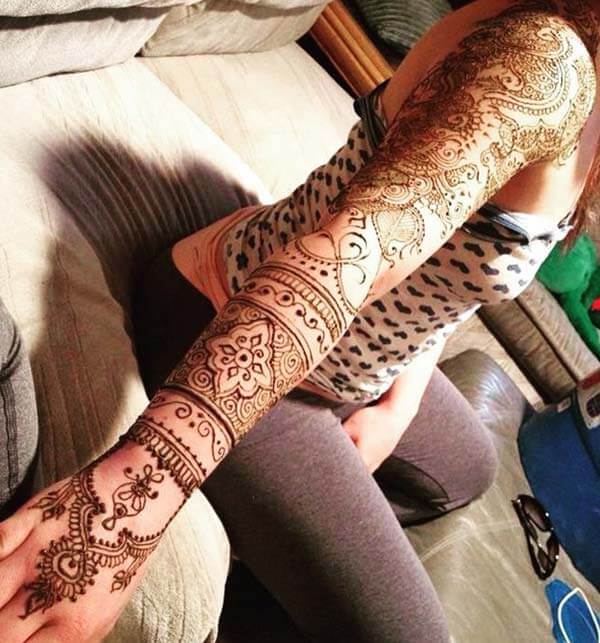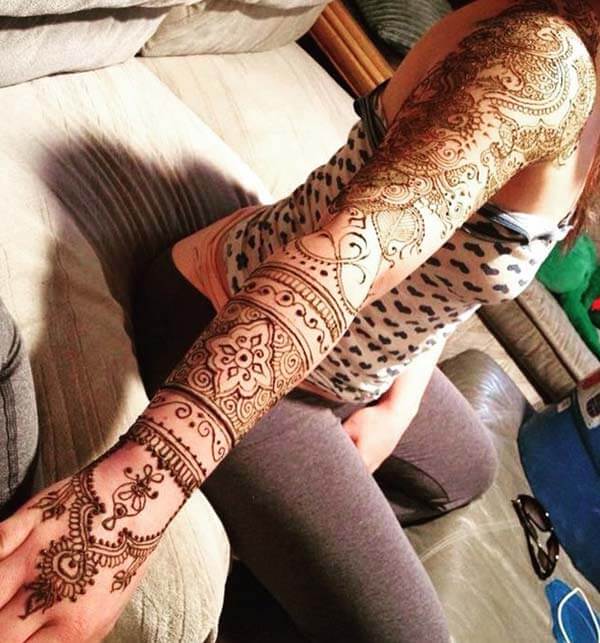 An enchanting full hand mehendi design for girls and ladies. Just look at it! The intricate patterns are right on spot and thrilling. This is definitely the incorporation of modern art in traditional mehendi designs.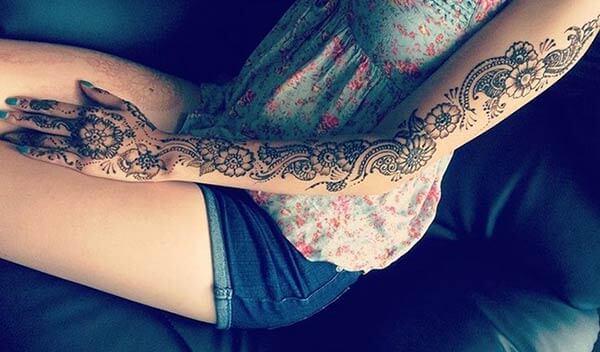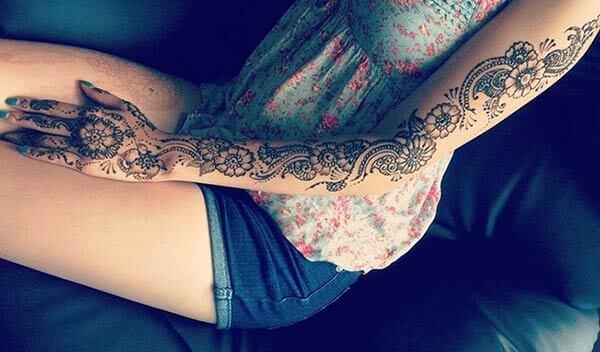 A heavenly mehendi design on full arm for girls and women. The design has several flower motifs paired with unique paisleys and curly leaves. The design is a floral garland on the arm and make the women look like a Goddess.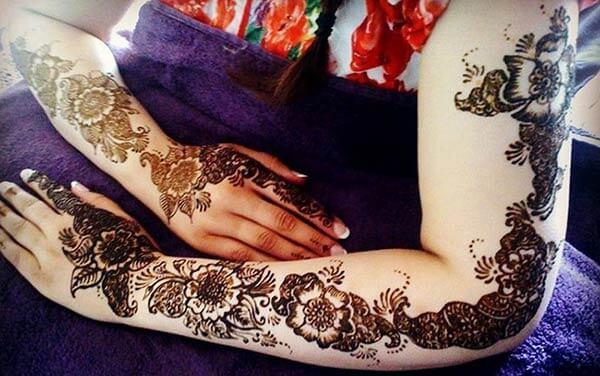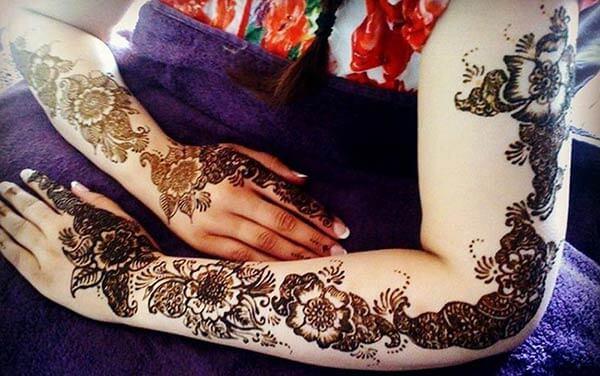 Show the world your feminine beauty using full arm mehendi designs for ladies. Flowers are related to femininity and this designs tells it right. The design has not only enhanced the woman's appearance, it will have definitely made her confident and bold.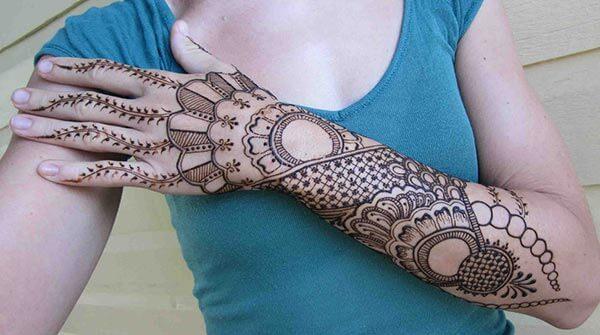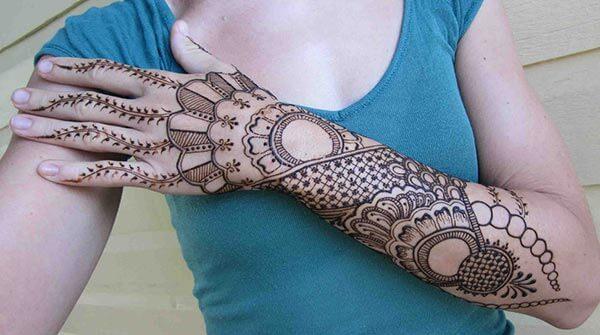 A captivating full arm mehendi design for Women. Contrary to traditional patterns, this design has modern art applied as mehendi. The geometrical patterns are smartly combined to present a unique design and it is done right!
Click below for more full arm mehndi design