Mehendi designs for fingers – Part 5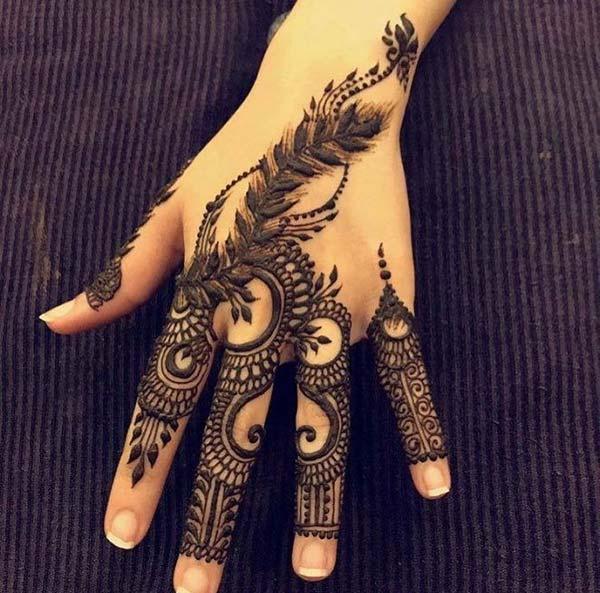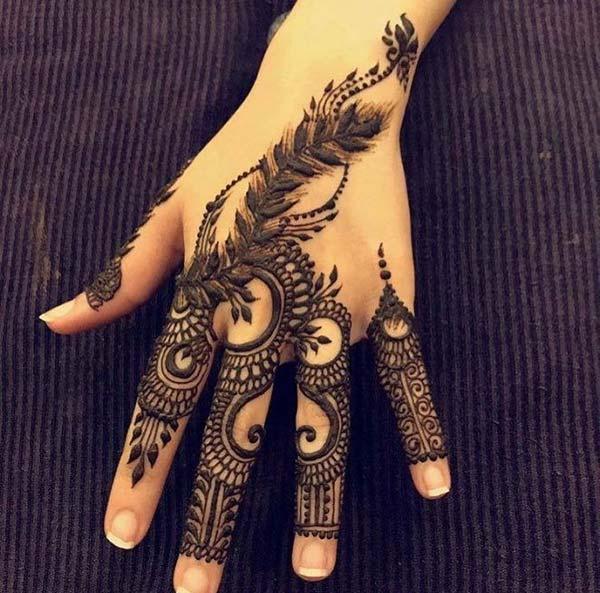 An arresting mehndi design on fingers for girls who love henna. The design is exquisite and captivating. The addition of feather feature to the design enhanced the overall look of the mehendi.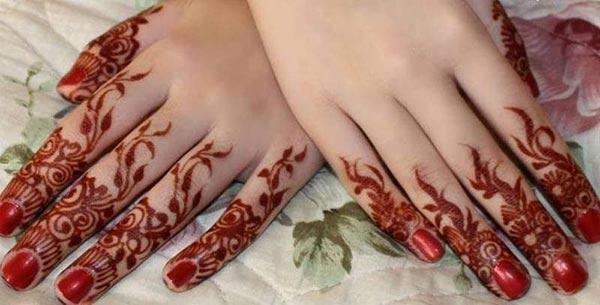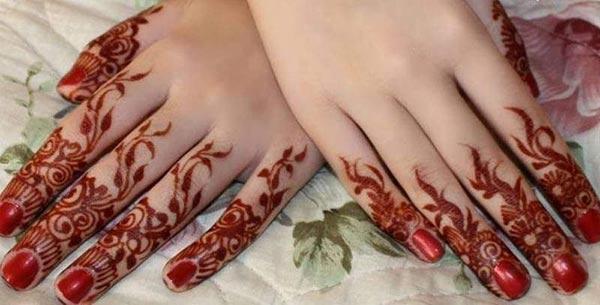 A flaming mehendi design on fingers for Women. The design looks like the fingers are on flame. The design is crowded near the finger tips and has small curves extending down towards the base of fingers.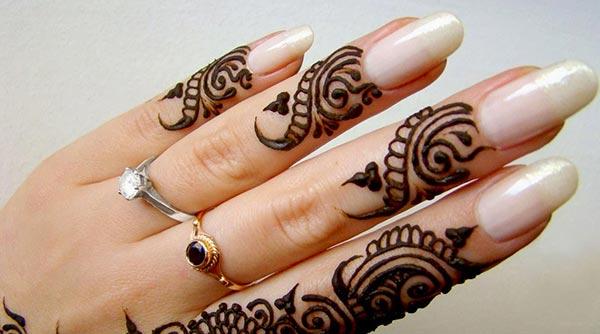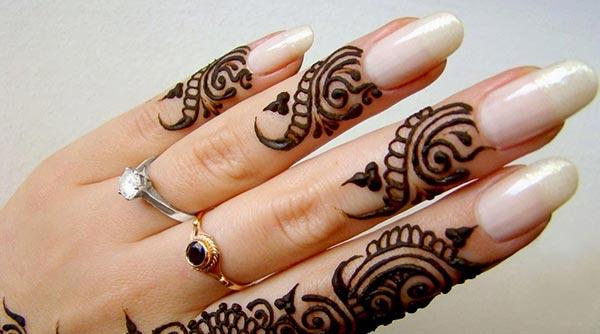 An enchanting finger mehendi design for Girls and women. The detailing is simply adorable and attractive. The tiny paisley on the area below the nail is decorated with swirls and dots making this look lovely.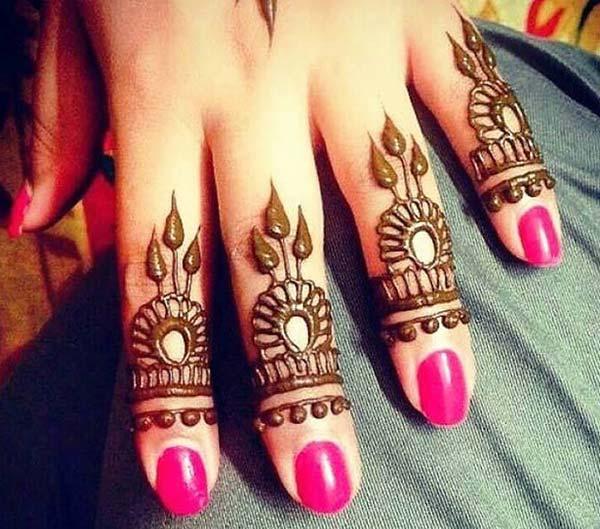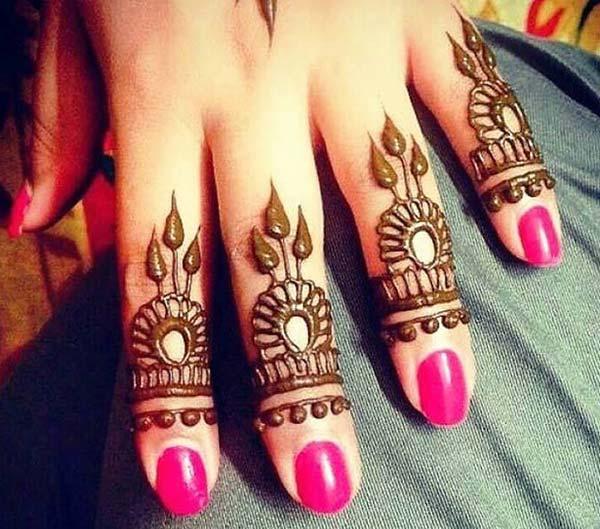 A pleasing mehendi design on fingers for Women. The design is minimal yet delivers a bold appearance. The circle is surrounded by beaded line at the bottom and three branched leaves on the top.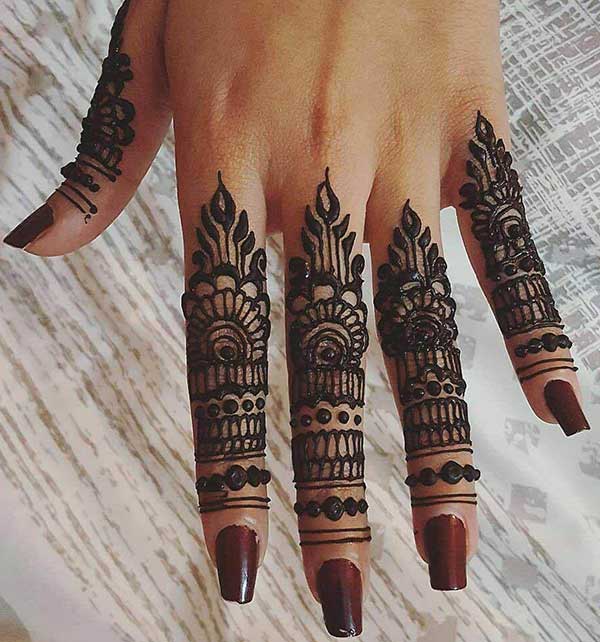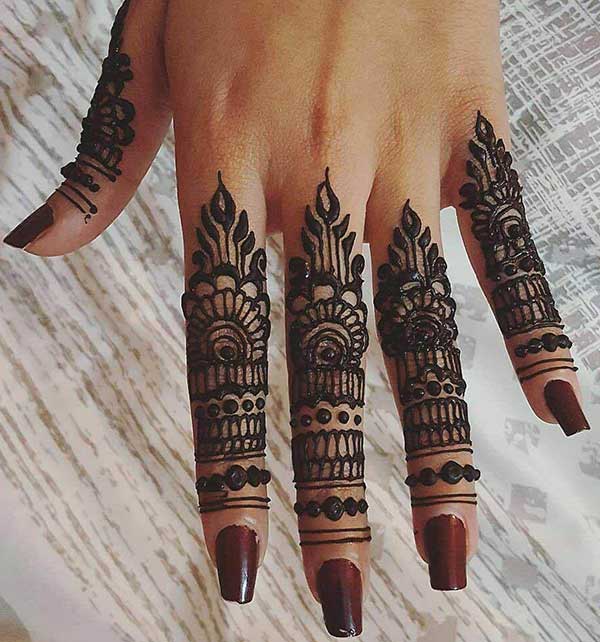 An ornamental mehendi design on fingers for Women. The intricate patterns cover the fingers completely and make it look sexy and longer. This design is meant for those who do not like crowded designing on hand.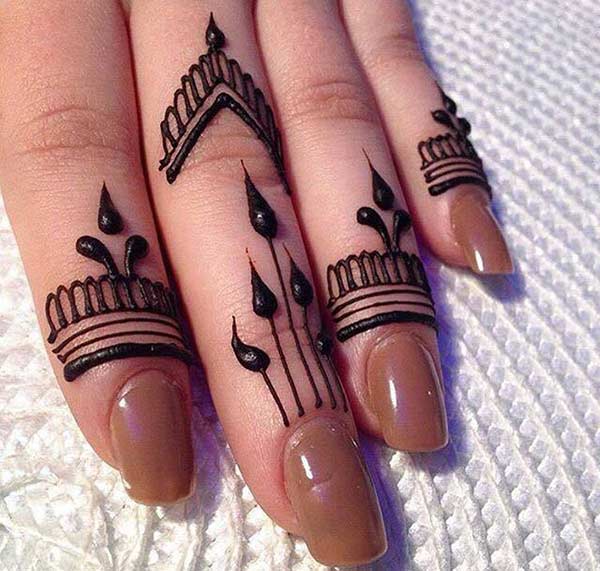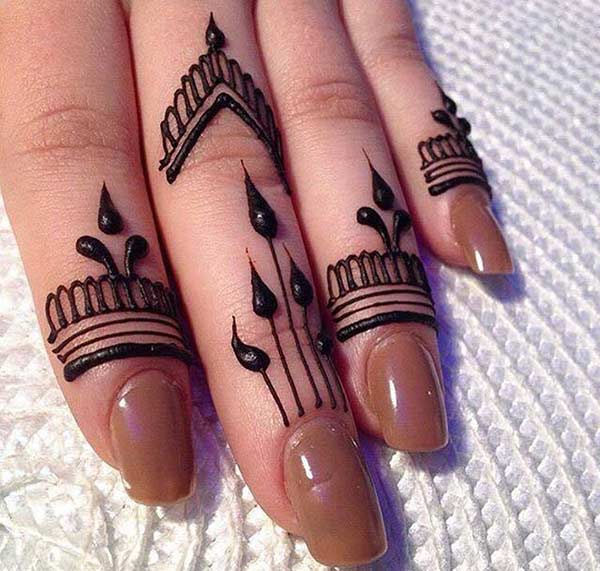 A striking mehendi design on finger for girls. This design is very minimal and attractive. The line patterns are paired with leaves on long stalk and other designs. This design will enhance the beauty of the finger.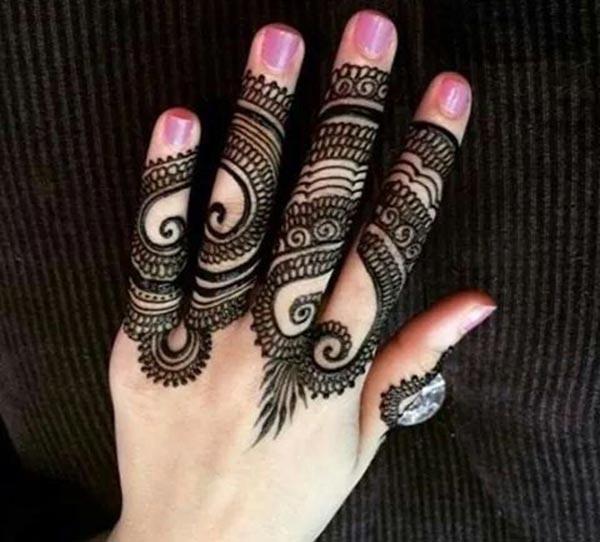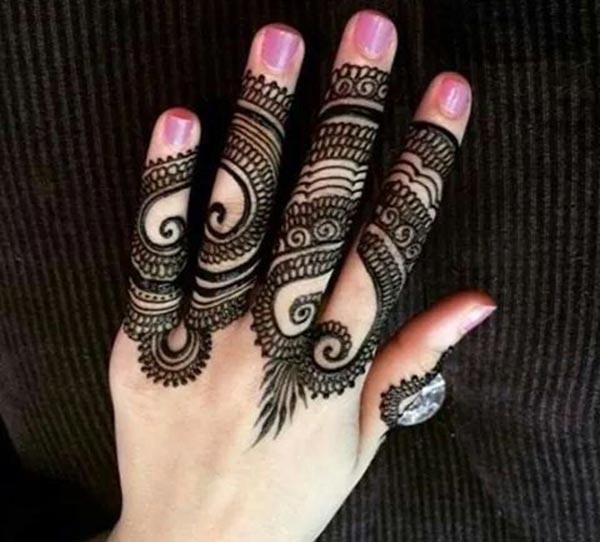 A hypnotizing mehendi design on finger for Ladies. Black mehendi gives a bold look to any design. A variety of patterns are incorporated into the spaces available on the fingers. Try this design if you want a fully decorated fingers.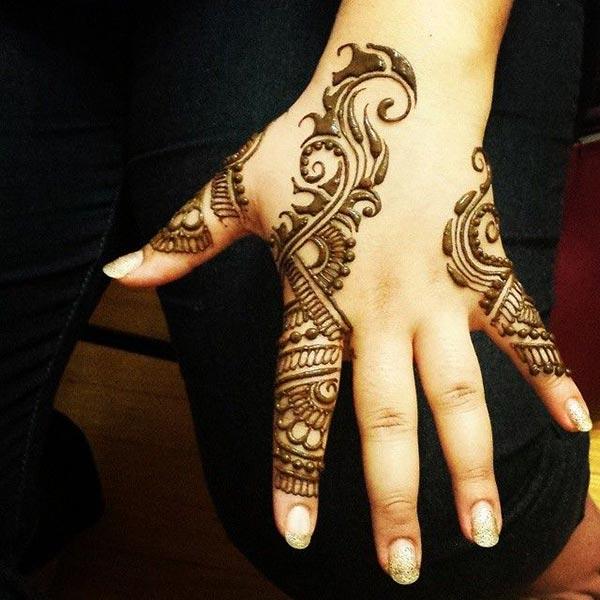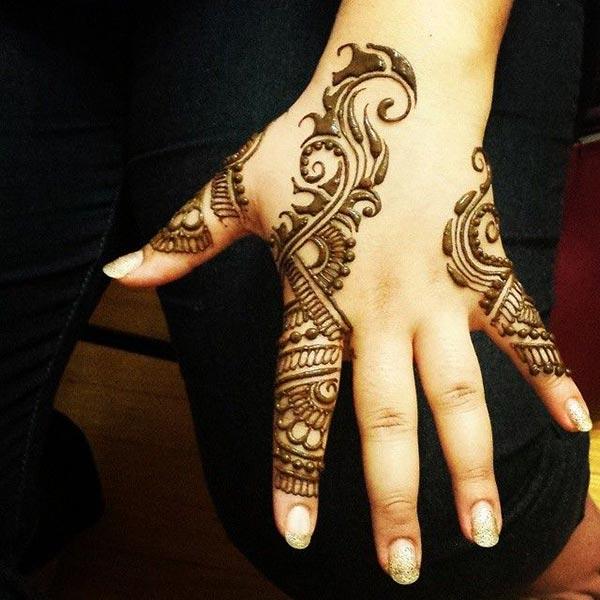 A unique mehendi design on fingers for Girls. The design is a mix of Arabian and traditional patterns. The look is unique as only 3 fingers are covered with mehendi. Want to try out something new and trendy, then check this out.
A leafy look mehendi design on fingers for Ladies. In this design, creative leaf pattern is applied and it is attractive. The dark bordered and minimal space coverage adds to the advantage of making this a unique look.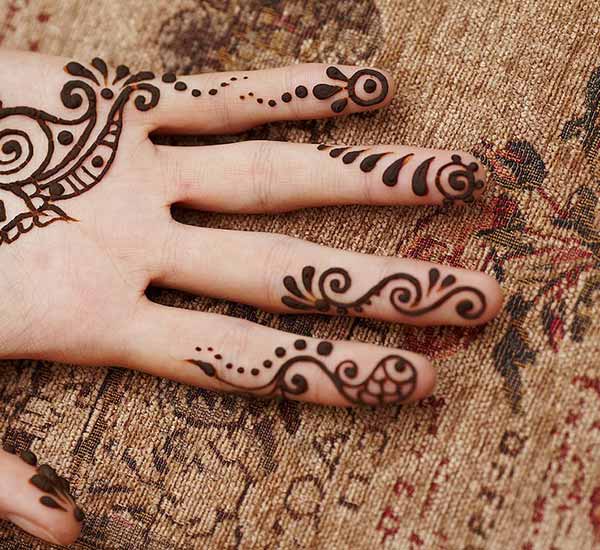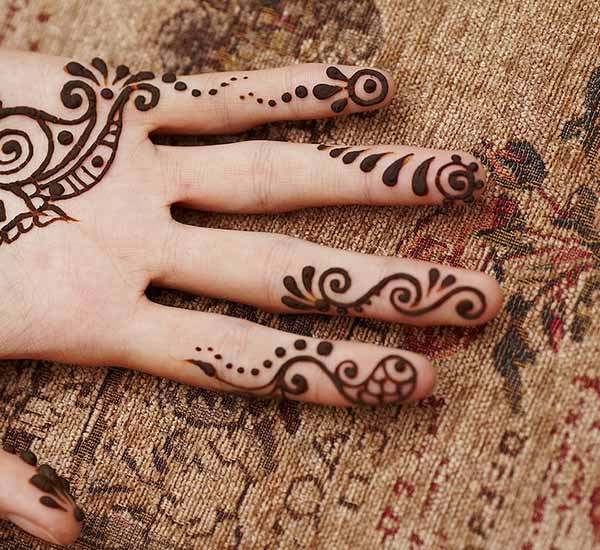 A spiral story on fingers using mehendi design for Ladies. The design is simple and easy. The elegancy it imparts to the hand is beyond words. The minimal designs are a trend now-a-days for all those who do not have time as well as likeness for intricate full hand designs.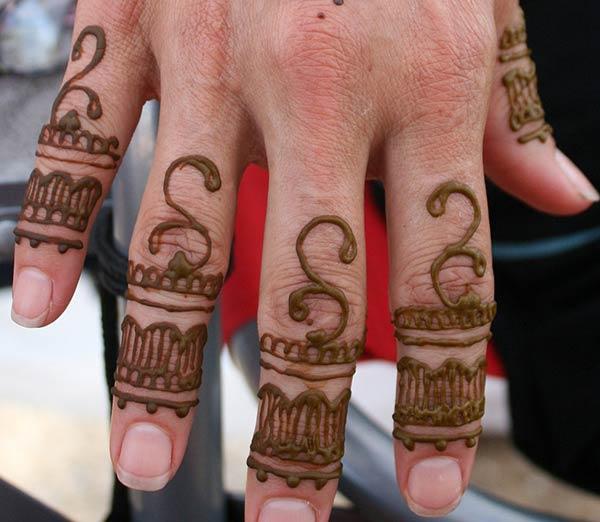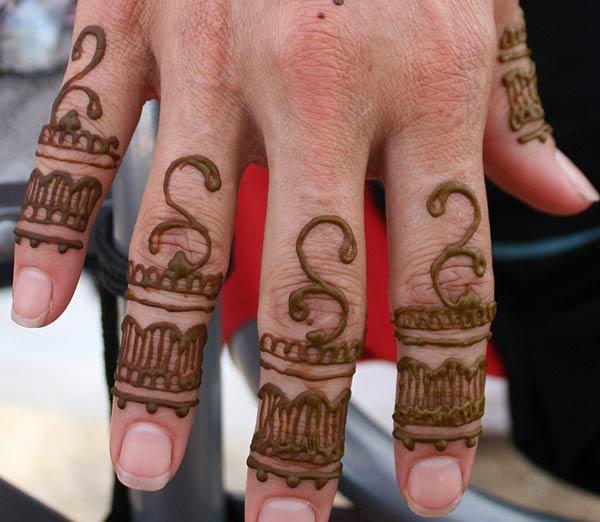 An architectural finger mehendi design for Women. The design resembles the wall designs of monuments. The inspirational design is easy to apply as well as it is attractive. Though the coverage is minimal, it makes a bold statement on the fingers of the wearer.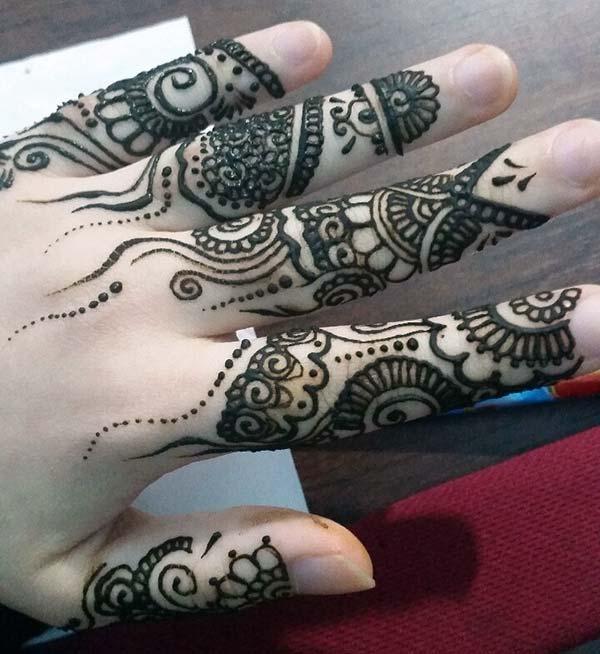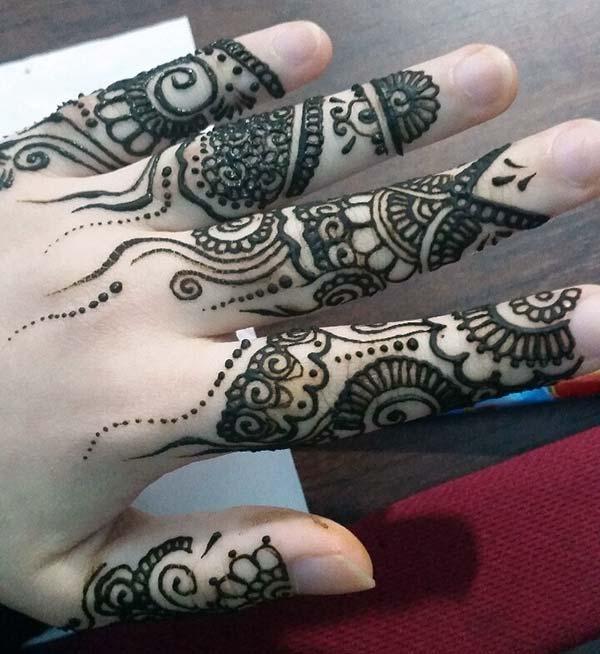 An artistic mehendi design on fingers for Women. This design has a unique appearance as the designs are different on each finger. Want to look fashionable and trendy, then try this multi-design finger mehendi.
Click below for more fingers mehandi design