Best Mehndi Design idea for you !!
Mehndi derived from the Sanskrit word mendhika is a traditional art of decorating hands, feet and other parts of the body with dried henna paste. History of Mehndi or Mehendi dates back to 5000 years when it was first preferred by Egyptians for artistic, ritual and ceremonial uses. Created from powdered dry leaves of henna plant mixed with other natural ingredients, Mehndi is a very popular form of body art among women all across the world.
Henna was first applied as a dot on the palm of the hand to cool down the body. As this became boring, the earlier users of henna began to add lines and other shapes and this eventually elaborated to become beautiful designs we make today. The henna paste is then poured inside a plastic cone and is applied to the skin and on removing after several hours, leaves beautiful cherry-red to brown colour on the skin which lasts for 1 to 3 weeks depending on the area of application.
Mehndi is often viewed as a woman's practice though it has indeed been practised by men. It is far more common for women to wear it, especially during special occasions like marriages, religious and traditional ceremonies. According to Vedic customs, Mehndi is intended to be a symbolic representation of the outer and inner sun, that is derived from the ideas of awakening one's inner light. Over the century, Mehndi has flourished into different cultures, in different styles and various ways of the application were developed, from the floral pattern of Pakistan, intricate design of India, geometric shapes of Morocco to bold shapes and patterns of various parts of Africa. The most common types of Mehndi are Indian, Arabic and Pakistani designs.
In an Indian wedding, a lot of emphases is given on customs and rituals and same is reflected in Mehndi ceremony before marriage. This ceremony is a very exciting phase of the wedding celebrations as the bride and relatives ornate their hands and feet with intricate and unique patterns of Mehndi. Today, styles of Mehndi are often influenced by modern art and pop culture and celebrated all over the world. Mehndi adorning is taken to next level by today's generation as it is being applied all over the body.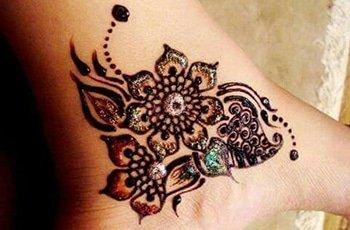 Mehndi is over 5000 years old and is thought to be a deeply seeded symbol of health, sensuality and luck. Mehndi is applied by people to look exceptional because of the significance to the wearer. In western culture, Mehndi is considered as a tattoo and called as a henna tattoo. Henna tattoos help you step out of the crowd to make bold statements you always wanted to tell the world and you were not able to do.
Ankle Mehndi is very attractive and unique from the usual Mehndi designs applied to hands and feet. Even simple and small designs look very decorative and captivating when it is applied to the ankle. Designs ranging from flowers and paisleys to beautiful ankle bands and colourful designs are very popular among today's generation. Ankle Mehndi design is not only for making the ankle of the girl or lady look pretty, it also reflects the person's attitude and mindset.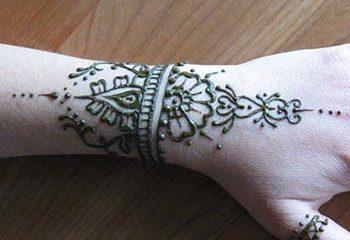 Mehndi design was introduced to India during the Mughal Empire. Mehndi charmed everyone from the Egyptians to far western countries over the centuries and lives forever young in the hearts of women. The latest Mehndi design is wrist design that looks more like a bracelet on hand. Many intricate designs and multicolour are used in making unique and impressive wrist Mehndi design. These designs come in a variety of patterns, sizes and shapes and radiate beauty and elegance to the wrist of the woman who adores it.
Wrist designs are the latest addition to the ever-evolving Mehndi. Wrist design comprises of kada, flowers, paisley, vines, dots and chequered patterns. These traditional designs are elegantly incorporated with modern creativity and delivered as unique and mesmerizing patterns. Wrist design can be worn casually for college or work as these are usually simple rather than heavy hand designs. These designs depict the feminine attitude in artistic form.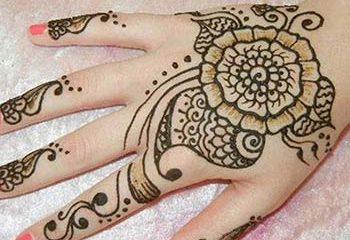 Traditionally Mehndi was applied only on hands and feet. Over the years, the elaborate designs are now applied to various areas of the body. The two best areas of the body to apply Mehndi are hands and feet as the thick skin on palm and feet stain well and last for 3 to 4 weeks. The designs are clearest in these areas due to the contrast with lighter skin.
In Indian culture, Mehndi art is a must for college functions, wedding ceremonies and religious festivals. You will not find a single woman without a touch of Mehndi on their palm during wedding celebrations. Applying Mehndi designs are easy by following certain classic norms of Mehndi. Traditional Indian designs are a representation of the sun on the palm, which generally includes flowers leaves or a circular motif. These designs are detailed using modern creative ideas and display a great deal of beauty.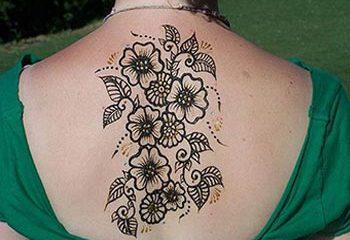 The conventional Mehndi is given a whole new makeover as it is now applied not just on hands, legs or feet. Presently girls love to have Mehndi designs on body back to meet the fashion trends. Mehndi artists have come up with very creative and unique designs in different sizes to decorate the back in a beautiful way. Mehndi designs not only make the woman look gorgeous, it also boosts the confidence of the woman which radiates throughout her character.
Fullback, upper back, shoulder back and lower back are the common back areas where designs are applied. Mehndi designs on upper back are usually intricate patterns of small to medium size. Shoulder back designs include floral and paisley patterns. Fullback designs are the most beautiful of all the back Mehndi as it has large coverage area. Marvellous and intricate designs are usually applied on back. These designs look exquisite in backless dresses and deep back saree blouses and cholis.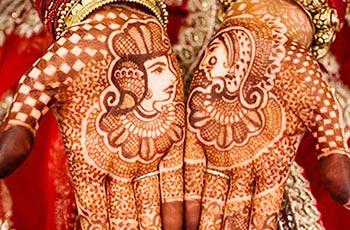 Henna trends are followed religiously in social media's like Instagram and Pinterest. A plethora of designs are available on the internet, from beginner's designs to professionally applied designs. In India, Mehndi ceremonies are the most fun-filled and glamorous pre-wedding celebration everyone enjoys. The brides ornate their hands and feet with intricate and most sophisticated bridal Mehandi  designs. Every bride wishes to look her best on her wedding day and so is her choice of Mehandi designs. Nowadays brides can choose from the variety of bridal henna designs available and even ask the artist to custom design according to their likes.
Bridal Mehndi of this generation includes intricate patterns of Krishna-Radha, bride and groom portraits on full arm and feet. Even shimmery designs are very popularly seen in brides. The love for complicated yet mind-blowing designs has taken bridal Mehndi to another level. The traditional designs of peacocks, paisleys, flowers and chequered patterns are now incorporated into modern creative art forms to deliver vibrant and jaw-dropping designs.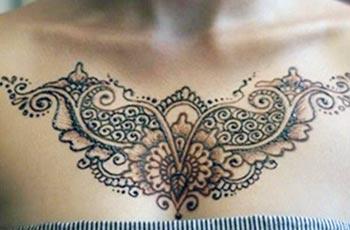 The modern society has witnessed the influence of fashion and trends on Mehndi and today designs are applied even on the chest. Mehendi is the best alternative for tattooing and in western culture, this is called henna tattoo. Surplus designs of different shapes and patterns are seen today. The common chest designs include floral patterns with leaves and beautiful vines. These designs add grace to the woman's character and make her confident and proud.
Several unique patterns are applied on chest today that includes beautiful designs as neck pieces. The traditional designs are combined with modern art forms to develop aesthetic patterns that are attractive and very trendy. Women prefer chest Mehndi as a safe and painless alternative to tattooing. These designs have a significant meaning to the wearer and describe their feelings to the world. Chest designs look very stylish and on wearing with off-shoulder and strapless dresses, the world can see the design adorning your chest.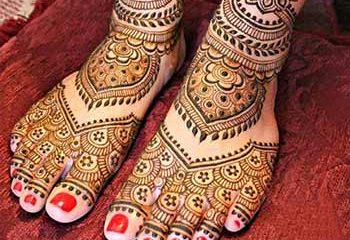 The feet are recognized as a point of divine contact, considered as a holy junction, where Human Being and Earth meet. Henna designing on feet is popular since the Mughal period. Wedding celebrations in most parts of India are incomplete without the application of Mehndi. Be it for the bride or her relatives, Mehndi designs for feet are always used to brighten up the feet. Feet Mehndi is very similar to hand designs as it gives a magnificent look for the wearer. Feet Mehendi designs enhance the beauty of the feet and in turn, make the wearer happy and joyful.
Varieties of patterns such as peacock, leaves, flowers, dots and paisley designs are applied on feet to give it a beautiful makeover. Any kind of feet Mehndi designs which has acquired certain distinctive patterns captivates instant curiosity. This distinctiveness of the patterns is from its unique mixture of geometric foot designs with conventional simple designs.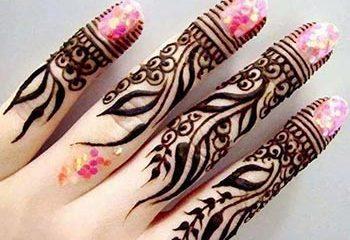 A captivating finger Mehndi designs make you look fashionable and glamorous. You can make your hands look elegant with a little effort and creativity. The recent finger design ideas are very innovative and refreshing. You can highlight your sleek fingers using these unique finger Mehndi designs. Finger Mehendi designs are a smart way of making a style statement using traditional designs. As these designed are specifically applied to fingers, therefore, they look classy and spectacular.
You can decorate your finger in Arabic style, Moroccan style or Indian henna style. Every style looks trendy and magnificent on hands. For different occasions you can pick different style like Arabic looks good on wedding functions and Moroccan can be carried easily on regular days. Finger Mehndi designs are easy to apply as they come as the best option when you have less time and you want to use henna on your fingers. Try these simple and elegant finger Mehndi if you like simple and minimal designs.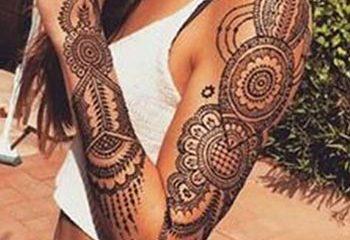 Applying Mehndi is a wonderful ancient tradition of India. Adorning the hands with beautiful Mehndi design has been a craze among women of all ages group since time immemorial. Every girl applies Mehendi to enhance her ethnic beauty more than just following the customary tradition. Mehendi or henna artwork is an inseparable part of almost all Indian festivals. Whether it's a wedding or any other auspicious occasion, getting these intricate designs done on one's palm is considered a holy omen all across India and even in the neighbouring countries The happiness and satisfaction one gets by looking at a decorative hand is inexplicable.
Full hand Mehndi designs are not always very intricate and completely covered. It also includes simple designs with spaces such as bracelet designs, single line designs that are very refreshing and attractive. Intricate designs give an extraordinary look to hands and are exceptionally beautiful. It is known to all how ladies love to revel in the enchanting fragrance and bold designs of Mehndi.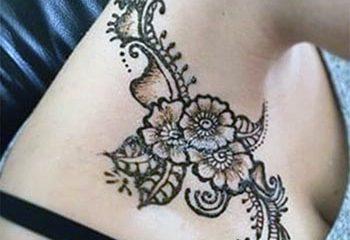 Neck Mehendi designs is a popular fashion statement among girls and women nowadays. These pretty designs are for girls who love to show off their neck and wear low-neck tops or backless dresses can opt for neck designs available from a variety of choices. The Mehendi designs for neck make the girl look stunningly gorgeous in perfect attire. The people who love applying multi-coloured Mehendi designs can use it by applying multiple colours to it.
Some of the popular types of Henna designs for neck include simple, creepy, floral Henna designs and much more. On the other hand, there are some elaborate and most challenging and complex patterns such as a fusion of mandala design with floral patterns that fit apt for any girl in any dress. The neck designs can start at the throat and continue till the shoulders that give elegance to the neck. Designs in the form of narrow flowers will also add grace to the look.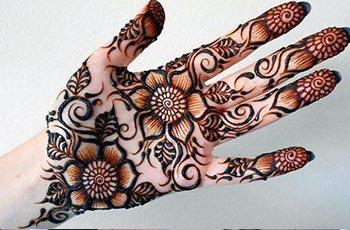 There are henna designs of extreme variations where you can opt for designs that are traditional and full coverage and also there modern and sleek designs for palms that can go pretty well with the western wears. The good thing with henna designs is that you always need not opt for complicated patterns, you can easily get easy and simple henna designs on your palms that will look no way less than their complicated counterparts.
The simplest design to the most complex designs no matter what the design is but women are always ready to get their hands glam up with a palm Mehndi design. It is not necessary to design the entire hands all the time for special occasion. Simple palm Mehndi designs will give utmost beauty to the hands and make it look gorgeous. Very popular palm designs are circular floral designs, Arabic lined design, peacock, rose, the bride and groom designs that are centrally focused with elegant patterns on fingers and surrounding.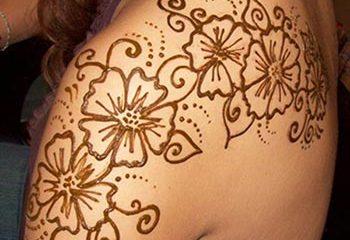 The usual trend is to apply Henna on hands and legs during auspicious occasions like wedding, baby showers and festivals to bring good luck. But the body art has become a fashion and adored by women all over the world which is no more restricted to hands and legs. Mehandi is gaining popularity and huge admiration from women for numerous reasons. One of them being that it is kind of temporary tattoo not causing any harm to the skin. And moreover, you can apply it on your own whenever you want. A little bit of practice can create wonders.
Shoulder Mehndi design can be of any type and size depending on the wearer's interest. Traditional designs are usually similar to the hand and feet design. Traditional patterns include mandala, flowers, paisley and chequered patterns. Trendy designs comprise of a large creative peacock, lotus design, Buddha palm and small sun with yin and yang designs. Shoulder designs are easily visible as hand and feet designs and usually applied to show off women's interest in body arts.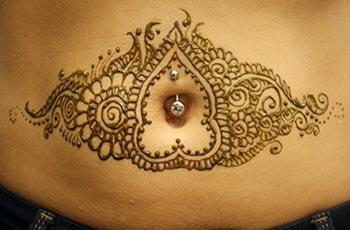 Mehndi design is the most loved form of temporary tattoo which is very graceful and refreshing. This form of art never seems to age. In some cultures in India application of Mehndi on the belly of pregnant women is something of a custom but belly Mehandi has become a new trend as well. Belly Mehndi patterns are of various types and usually not very elaborate. Simple designs look best on the belly as it looks very attractive on the vast belly area. Side belly, upper belly, lower belly and belly button areas are the most common area of Mehndi application.
elly designs look ravishing in crop tops, sarees and lehnga-cholis as the belly region is visible. New creative patterns with different colours and shimmers are being tried and appreciated by women worldwide. Belly designs enhance the charm of the woman who adorns it and makes her feel proud and bold of her appearance.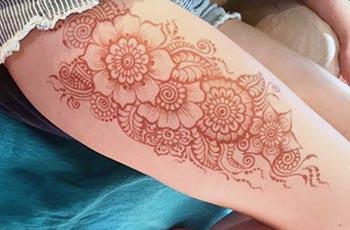 In the modern world, people began applying Henna on thighs. The thigh is a broad canvas for designing and therefore, results in mesmerizing henna designs. Thigh Mehandi designs are very similar to tattooing as the patterns are mostly geometrical and line patterns. Common thigh designs are floral Mehndi design, mandala, oriental art, lace designs and so on. These designs are either applied in band forms or randomly drawn on thighs.
Henna designing is an integral part of the customs in countries like India, Pakistan and Arabian countries. Mehndi has evolved into a bold, stylish and contemporary form from the otherwise traditional form. Application of Mehndi not only makes the body attractive, it also enhances the grace and beauty of the soul that wears it. Try different patterns and explore the hidden magic of Mehndi designs.