Mehndi Design for Thigh – Part 3
The best thing about Mehendi is that it can be applied anywhere as it is temporary and fades away over time. Mehendi designs are now applied on thigh.
Thigh designs are of variety of type as it provides a larges canvas than hands and legs. Here you can find few of the popular thigh designs and try them out yourself.
Thigh mehndi design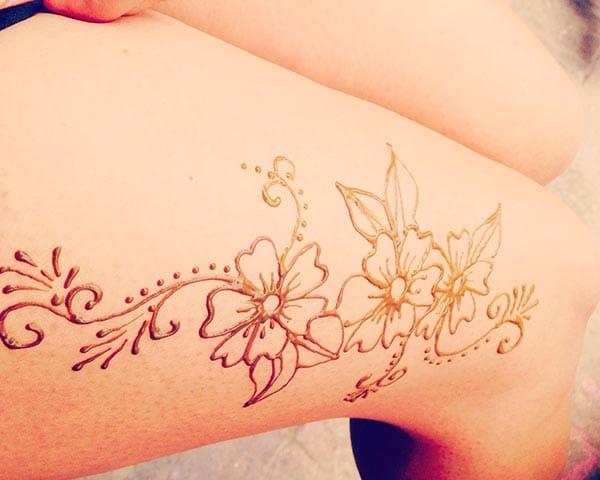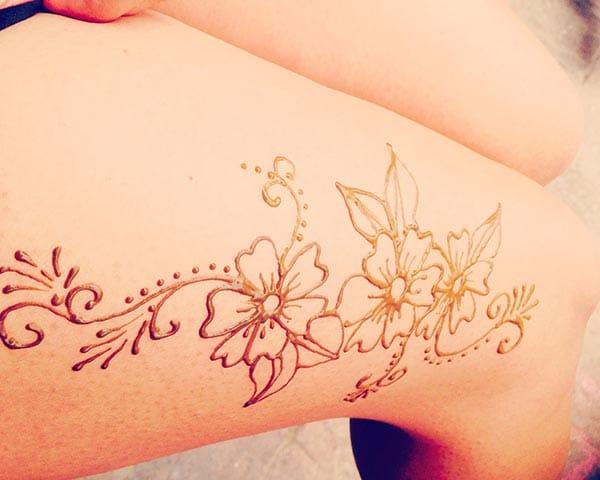 A good-looking thigh mehndi design for Ladies. This is a simple lovely mehndi design anyone can try and won't regret getting it. The floral vine decorates the thigh and makes it look sexy.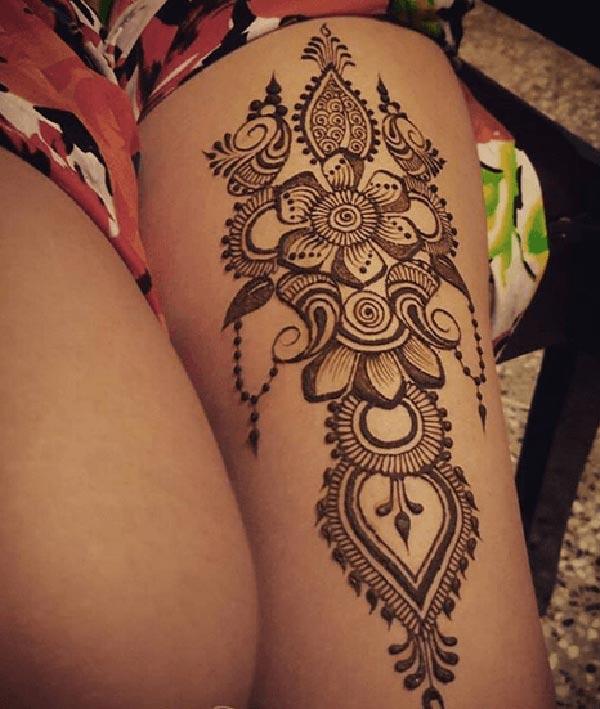 A breath taking masterpiece mehendi design on thigh for ladies. This design blows away any viewer. The perfection in the circles, lines and dots are worth appreciating. If you like standing out in the crowd, then definitely try this out!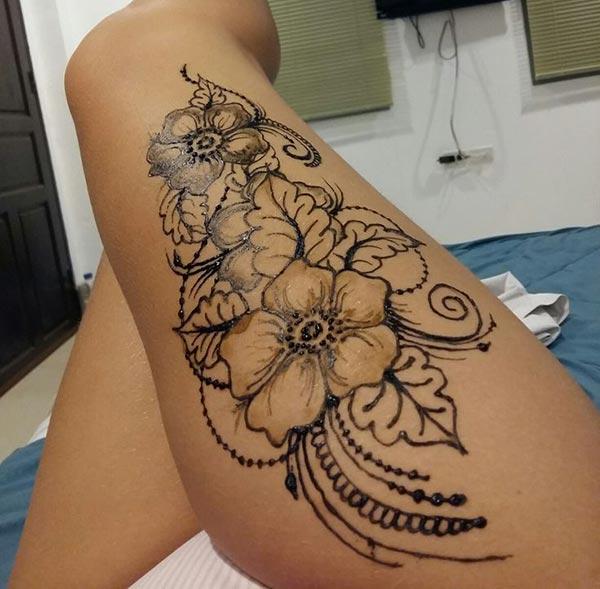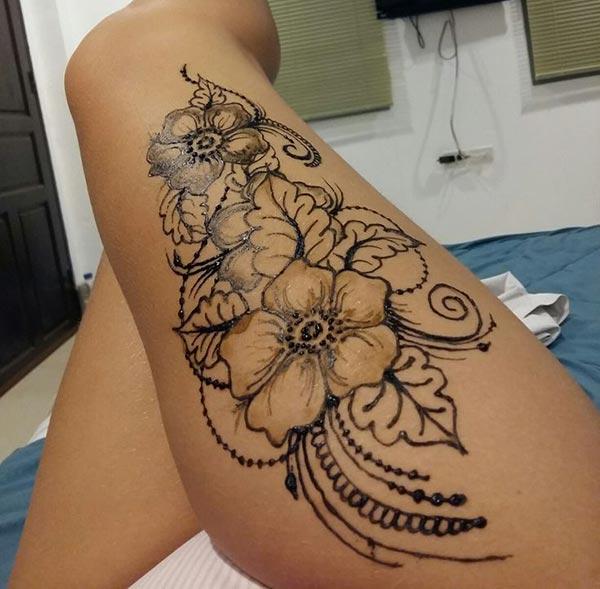 A marvelous 3D mehendi design on thigh for Girls. The flowers, leaves and swirls are combined beautifully to make this art. The shadings on the flowers are perfectly on the spot.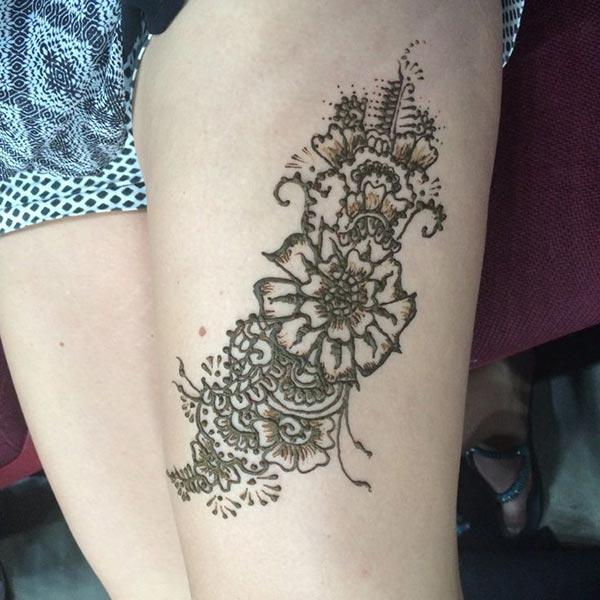 A pretty thigh mehendi design for ladies and girls. The central flower surrounded by other patterns look cute on thigh. You can make a fashion statement by wearing shorts to flaunt this design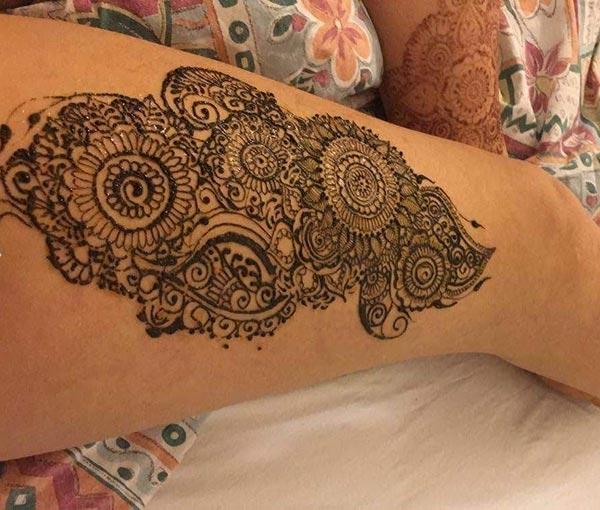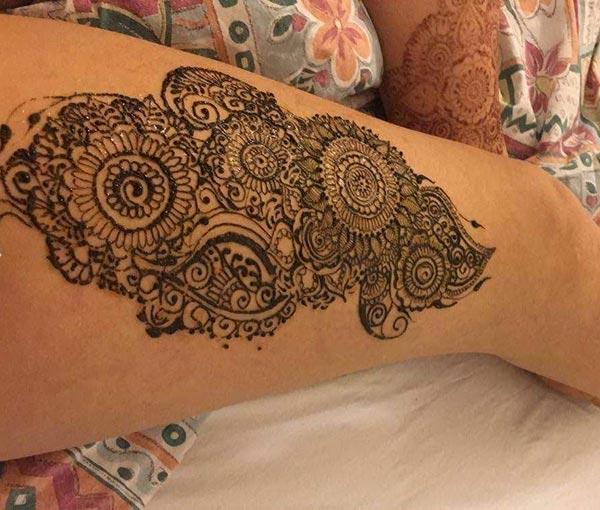 A classic thigh mehendi design for girls and women. This mind blowing design is very intricate and worth appreciating. This is an amalgamation of several mandalas to create a unique art piece.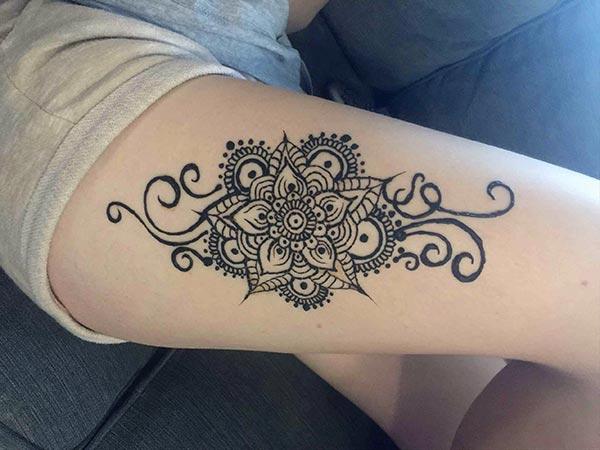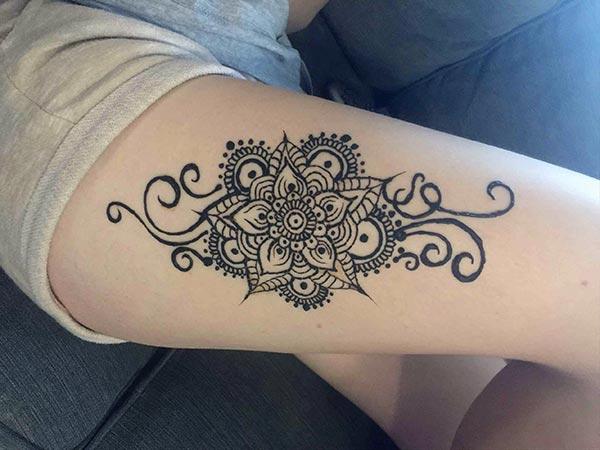 A simple stylish mehendi design on thigh for Women. The central mandala is perfectly designed using lines, dots and curves. This design on placing on thigh will up your confidence as well as bring a fresh fashion look.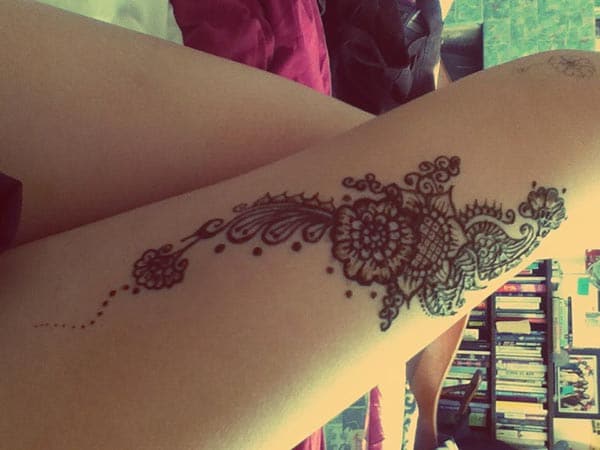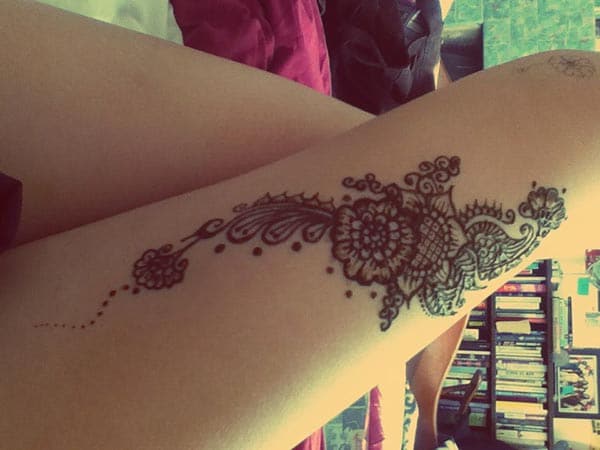 An elegant thigh mehendi design for girls. This is a traditional henna design placed on a different place. The design looks more like henna tattoo on the thigh. The design can make the women feel proud of herself.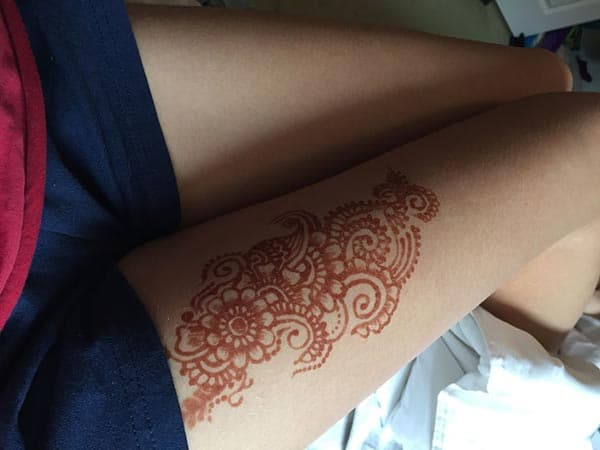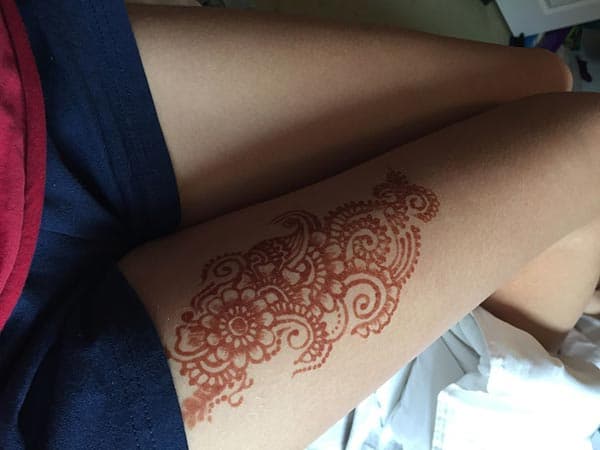 A beautiful floral mehendi design on thigh for Ladies. This design is mainly composed of flowers, curls, leaves and dots. The design suits thigh as larger area is available for elaborate designing.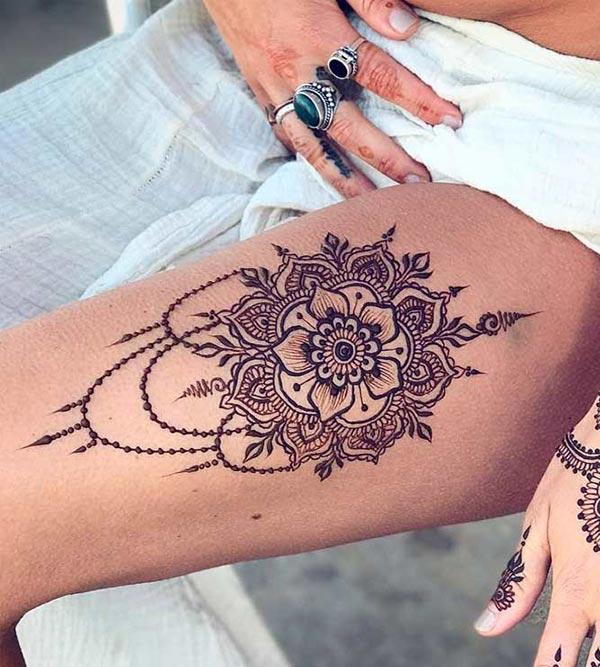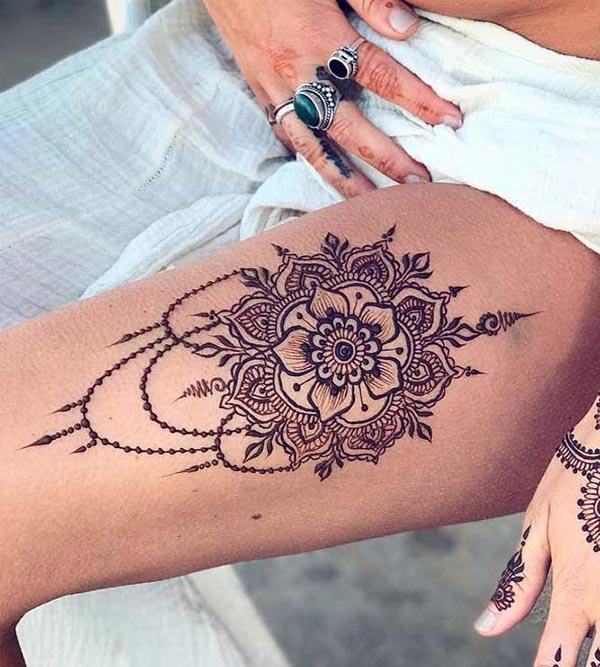 A sexy mehendi design on thigh for Girls. If you are the kind that likes to experiment new styles, then this design is for you. The impressive artistic design can be boldly flaunted in any attire.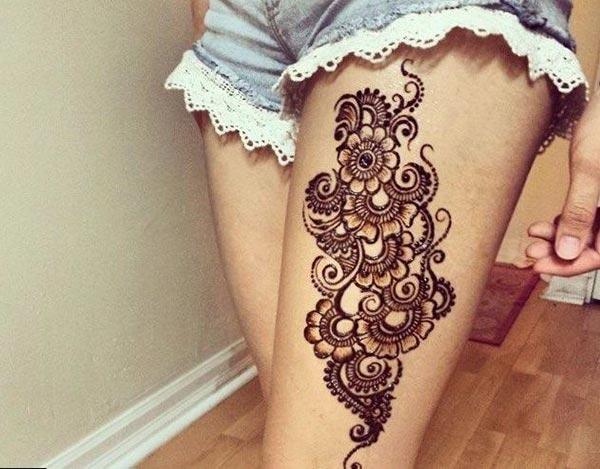 An eye-catchy flower power mehendi design on thigh for Ladies. Body love can be taken a notch higher with this design. Look at the beauty of the design, the flowers and the charming curves are simple astounding.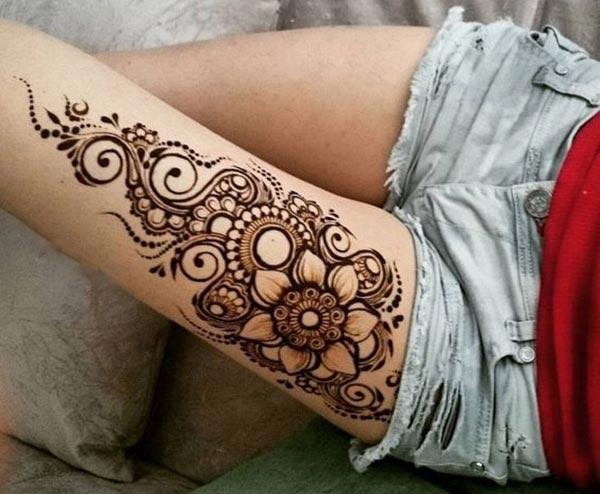 A jaw-dropping artistic mehendi design on thigh for Girls. The large flower looks fabulous and the unique patterns around it make this design stand out. Anyone will blindly fall in love with this design and try it out the enhance your look.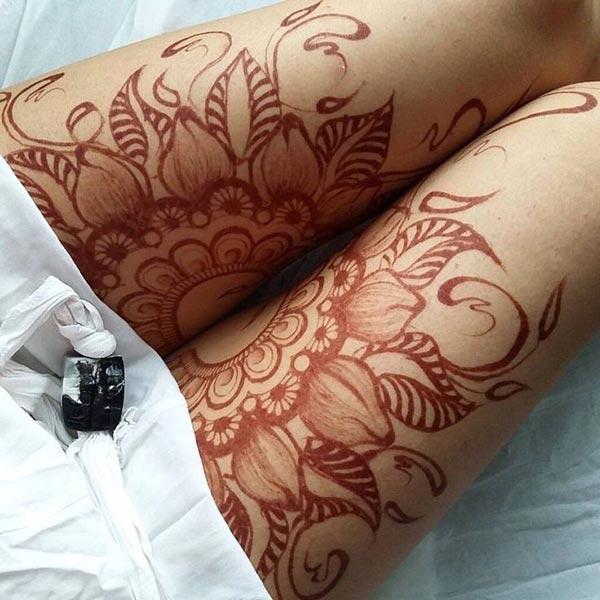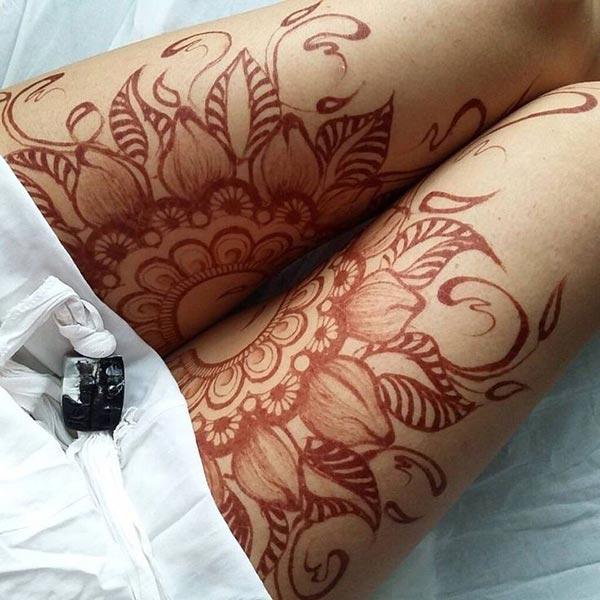 A split mandala mehendi design on thigh for Girls. Mandala tattoos and henna designs are very popular. This is a single mandala applied by divinding equally on both the leg. It is a very unique way of presenting a design.
Click below for more thighs mehndi design